A brushcutter or strimmer is an essential piece of garden equipment. It helps to tidy up the edges and corners of the garden that your lawnmower can't reach. Whether you have a small garden to maintain or you work as a professional landscaper, STIHL will have an option to suit every need. From the traditional petrol options to the new battery powered and electric options, choosing the right strimmer can be a difficult. It all depends on the type of garden you have and your particular use for the machine! To give you some idea of what options are available from STIHL, we've chosen some of our most popular models
STIHL's lightest and smallest petrol grass trimmer is the STIHL FS 38, ideal for tidying up lawn edges or small areas of grass around the home. It comes with an AutoCut C 6-2 cutting head and it perfect for putting the finishing touches to your lawn. For a larger option you have the STIHL FS 55 and the FS 55R, fitted with a comfortable bike handle or loop handle depending on the model. These are suitable for bigger gardens and still ideal for use around the home as a domestic use strimmer. The STIHL FS 111 and FS 111R step it up a gear in terms of engine power. Featuring a 31.4 cm³ engine, this model is more suited for large areas of landscape. With the help of various interchangeable cuttings tools, it can tackle weeds, thistles and rougher grass.
STIHL also have the FS 240 C which is best suited to agricultural and horticultural work. This machine features a 37.7 cm³ engine, multi functional control handle and is supplied with a comfortable harness. Finally we have the all NEW Professional FS 461 C-EM clearing saw, a replacement model for the FS 460 C-EM. Featuring a huge 45.6 cm³ engine, this is designed with the professional user in mind. It can handle areas of tough grass and features the STIHL Ergostart which cuts the effort required to start the tool by half!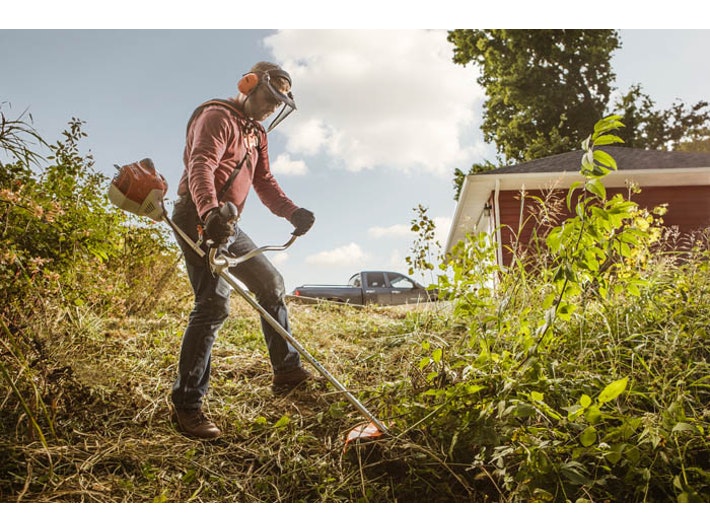 Have you ever considered switching to battery powered tools? Battery powered options are fast becoming a popular choice for many homeowners and landscapers alike. They are quiet, produce zero emissions and there is no messing around with fuel and oil mixtures! Just charge up the battery and you're ready to go! STIHL offers both the AK battery system and the AP battery system depending on the model.
The FSA 45 is the smallest battery model available. It actually comes with an integrated battery with charge level indicator so there is no need to buy a separate battery and charger. It is a very popular choice for light trimming jobs around the home. You might also like to use STIHL's PolyCut plastic blades. Its super handy and lightweight and certainly a very popular option.
The FSA 57 is next up, this requires an AK 10 battery along with an AL101 charger. The AK battery can then be used in other STIHL battery powered machines that use the AK system. (Not to be confused with machine that use the AP System which requires a different battery!) Again, this is a very lightweight model and features a spacer for mowing around shrubs and plants.
The STIHL FSA 135R is a powerful battery operated brushcutter, rivaling the powerful petrol options, this features the AP battery system so it requires an AP300 or AP300s battery. The AP battery slots into the top of the machine allowing you to move freely around without the need for fuel or oil.

AK or AP Battery System?
I mentioned there are two battery systems available from STIHL – AK and AP. There are many other STIHL products that require AK batteries, including chainsaws, leaf blowers, hedge trimmers and lawnmowers. You have 3 options: AK10, AK20 and AK30 batteries, each providing different outputs and different run times. They are all the same size so this means that you can use the same battery for a number of machines, however remember to look at the recommended battery as some tools require higher battery capacity.
The AP battery system includes tools that are more powerful. Again there are a number of options: AP100, AP200, AP300 and AP300s. These are also interchangeable. For example, you can use an AP300 battery instead of an AP200 for longer run times. Depending on which battery you have, there is the choice between the AL101, AL300 and AL500 chargers also. Be sure to check out the recommended batteries and chargers on STIHL's website.
STIHL Electric Brushcutters
Finally the STIHL FSE 52 is the electric model of choice. It may not be the tool you need for the bigger jobs but it is perfect for noise sensitive areas and light work around the garden. It features an adjustable shaft to suit your height and the cable strain prevents the power cable from being accidentally disconnected.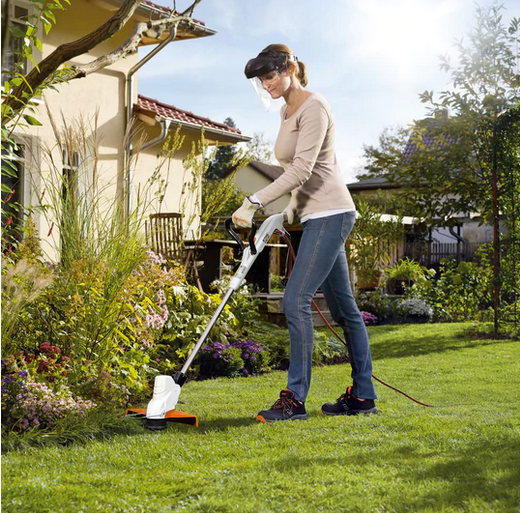 STIHL Protective Equipment
Before you jump straight into using your new brushcutter, take a minute to look through the range of safety wear from STIHL. The range includes hearing protection, goggles or glasses, gloves and boots.
There is certainly a lot to think about when choosing a brushcutter, but hopefully this guide will help make things a little clearer! If you still need some information on the specifications of any machine, just give our store a call on 074 97 21805, where our sales team will be happy to help.