The Quad Squad – Reasons why farmer are not walking anymore
Why are farmers not walking the fields anymore? The answer is very simple. Quad bikes!  Once you start farming from the comfort, flexibility and stability of a good ATV (All Terrain Vehicle) or Quad bike, you will never set foot on the ground again.   You will wonder how you managed before that trusty quad put the fun back into farming.
On a serious note though, it is evident that more and more farmers are joining the quad squad.  Happy out as they navigate wet and dry landscapes and control livestock from the relative ease of the ATV saddle.  The modern day cowboy farmer fully appreciates the easy get on-and-off-nature of a quad bike for tackling the daily jobs.  You can haul small amounts of equipment, tow trailers and herd livestock with ease of movement and dexterity.  It's a no brainer really. Quads are fast becoming the new farming tool of choice.
Let's face it, not only is a quad practical and useful, it also is totally cool!!  Yeah, even if the only ones around to appreciate your uber-cool quad moves are some disinterested chicken and some startled calves, quad bikes are super awesome.   Sure, you might get a deal wetter than you would in the relative warmth of the tractor cab, and you may put on a few pounds as you refuse to use your legs for anything other than getting on and off your hot quad machine, but it will be worth it.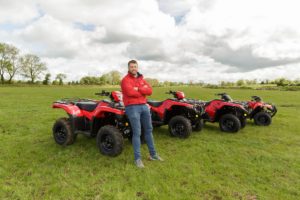 At Robert Kee's we have a large selection of new and second hand quads  for your every need, from the standard 2 wheel drive farm Quad to the heavy duty Honda TRX420FM1 . No matter what you need it for, a Honda ATV has the technology and performance you require to get the job done. Browse our range of Honda Quads online or call instore and see them for yourself. As an extra temptation, 0% Finance is currently available to agricultural customers, providing another good reason to invest.
Of course, even the most fabulous farmer of the Quad Squad puts safety as a priority.  A good training session is needed before you can fully enjoy the quad experience and a few rules are essential to getting the best from your ATV.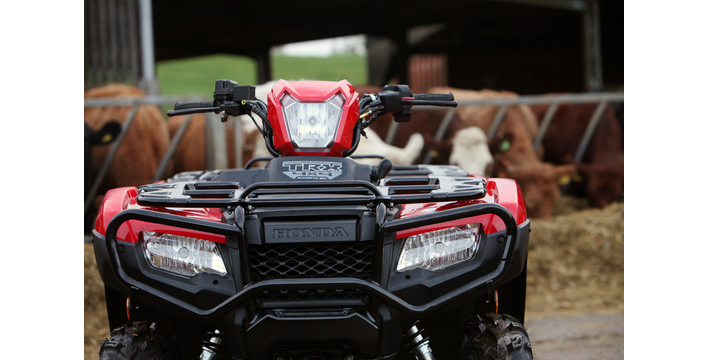 Take her Handy. Speeding is not advisable on the quad.
Go Solo. No passengers allowed.
Be well balanced. No unstable loads.
Don't tow heavy loads.
Be sensible about steeper slops, ruts and uneven ground.
Drive with a helmet… your brain is too precious
So, come test drive some of the best off road ATV'S in Donegal. At Robert Kee's we have a warm welcome, friendly staff, and possibly the best off road ride of your life!  Come along and rock the Quad.