Hedges have a variety of uses in our gardens, they can provide privacy, shade or a beautiful border.  Whether you want a manicured look or something a bit more creative, regular care and maintenance is required to achieve the perfect look.  Anyone who has a medium to large area of hedging to maintain should definitely invest in a good hedge trimmer – they are fast becoming one of the most popular pieces of garden equipment and having a good lightweight hedge trimmer can make a pain staking job a lot quicker and simpler.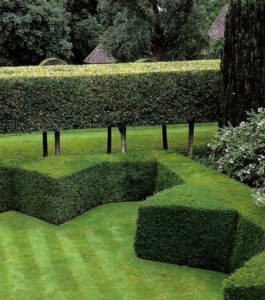 There is such a variety of tasks that can be completed with your hedge trimmer here we have compiled our top tips for keeping your hedge looking great.
Choosing the right hedge trimmer
There is such a large selection of hedge trimmers to choose from and it can be difficult.  Battery models are ideal for those with no power source, petrol models for larger hedges and electric models are suited to smaller areas with a power supply.  Some of our most popular models are the Husqvarna 122hd60, STIHL HSA56 or the Flymo Easicut 450 Electric Hedge trimmer.
Trimming Tips
It takes a hedge between 5 and 20 years to fully mature therefore a lot of time and patience is required. Regular trimming is definitely the key to a healthy hedge. By starting to trim your hedge from a young age it makes it far more easy to manage.  When cutting your hedge you should start from the sides and cut up from the bottom in the direction of the hedge growth which will result in a much smoother finish. Tapering your hedge so that it is wider at the bottom than it is at the top ensures more light will reach the bottom of the plant and encourage growth.  Remember that hedge trimmers are powerful tools so work slowly so you don't end up with a butchered hedge!
Clearing Up Afterwards
Hedge cutting is not the tidiest of jobs to complete but the easiest way to manage this is by laying a plastic sheet on the ground to catch the cuttings. This can be gathered up when finished and disposed of with your other garden waste.  Any cuttings left of the hedge should be picked off by hand (always ensure you wear gloves to save any cuts and scrapes from broken twigs and branches).  You can run your lawnmower over the area when finished to collect any other loose debris lying around.
Maintain your Machine
Keeping your tool in good working condition will ensure that you are getting the best performance from your hedgetrimmer.  Your machine will collect dirt, sap, leaves and other debris whilst cutting so after use carefully remove any trapped leaves and twigs with your hands then using a dry cloth and special cleaning solvent spray the blades of the trimmer and remove the solvent.
Another important task is keeping the blades sharp. Bring your hedgetrimmer into one of our stores in Laghey or Letterkenny and we can get your blades sharpened for you or if you feel confident enough doing it on your own take a look at this STIHL tutorial showing someone sharpening their trimmer blades.
When finished give your trimmer blades a spray of resin solvent again to ensure the blades don't rust.
As with all Garden Machinery always ensure that you are wearing the appropriate Personal Protective Equipment whilst hedge trimming always wear Eye and Ear Protection, gloves and foot protection.
If you are unsure about which machine would suit your needs best our staff at Robert Kee Power Equipment are always available to talk you through the different models available and offer valuable advise.  Call instore to our Laghey or Letterkenny Stores, phone or e-mail whichever suits best.
Happy Trimming!