Christmas Gift Ideas at Robert Kee Power Equipment
Even though most of the big retailers have been advertising Christmas since Halloween, it is now officially Christmas Season at Robert Kee Power Equipment.  The tree is up and we are in the festive spirit.  Let us help you make Christmas shopping a little easier this year with some of the fantastic gift ideas and bundles we have created for you to save a little extra.
At Robert Kee it's not just Lawnmowers and Chainsaws we sell, there really is something for everyone in the family.  All our gifts are available to buy online and can be delivered straight to your door.  What more could you want!
We have a range of Christmas gift bundles available online suitable any on your life that is always working out on the farm or in the garden.
For the Farmer
Quad Safety Bundle
This quad safety bundle is the perfect gift to help keep you protected whilst our driving on your quad.  It includes a ATV Windshield, Safety Helmet and Wellington Boots
Quad Accessory Bundle
The perfect accessory pack to keep you comfortable whilst on the quad.  This kit includes a Front Dry Box for storing tools and equipment whilst driving, A quad seat cover and Handlebar Mittens for extra warmth and comfort.
Chainsaw Accessory Bundle
We have excellent value in the chainsaw accessory bundle which includes a Stihl Chainsaw Bag, Stihl Combi Can and Stihl Safety Gloves, the perfect gift for anyone who cuts their own timber at home or works with a chainsaw.  The Chainsaw bag will hold any chainsaw up to an 18″ guide bar.
For the Ladies
We have a large range of bicycles to choose from and we have a whopping 35% off them all in our Big Bike Event that is happening now.  So for any mum's, sister's, wife's of girlfriend's that love to keep active now is the perfect time to buy and with free delivery nationwide we will take the hassle out of shopping.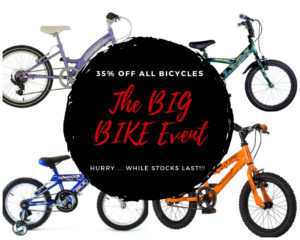 For the Gardener
If its gardening they love then your in the right place.  Robert Kee are authorised dealers for some of the best brands in Garden Equipment.  We have some great Gift Bundles available for anyone working in the garden.  How about this Husqvarna Gift Bundle including FM Radio Earmuffs and Classic gloves or what about this starter safety bundle.  These bundles are great value.
For the Kids
There is plenty for the children at Robert Kee Power Equipment.  Keep them outside and active this year with our range of Berg Go-Karts, Petrol Go-Karts and Junior Quads.  There is endless amounts of fun to be had with these fantastic toys.
Berg Go-Karts
Berg Go-Karts are one of our most popular gifts for children at Christmas.  We have a large range suitable for all ages from toddlers up to adults.  We have made some great bundles in a selection of the go-karts which work out to be great value.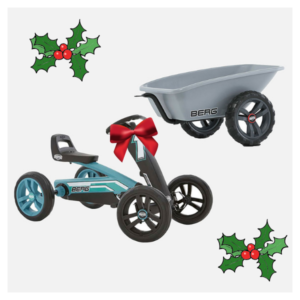 Whoever you are looking to buy for drop into one of our showrooms and speak with one of our sales team who will be glad to help you find the perfect gift.  If your not local to any of our shops in Donegal shop online and enjoy free nationwide delivery on most items over €99 (excluding items over 30kg in weight).
Wishing all our customers a very Merry Christmas and a Prosperous New Year.  We look forward to welcoming you back to our store in 2019.